Join Us
Pernas is an agency owned by the Ministry of Finance Incorporated (MOF Inc.) with the mandate to lead the development of Malaysia's franchise industry.Pernas plays a role in spearheading the growth of the country's franchise industry in order to fulfill their goal of producing more franchise entrepreneurs in the business world. One of the main objectives of Pernas is to develop local products and market them abroad.
MYSTEP 2021 (Short-Term Employment Program)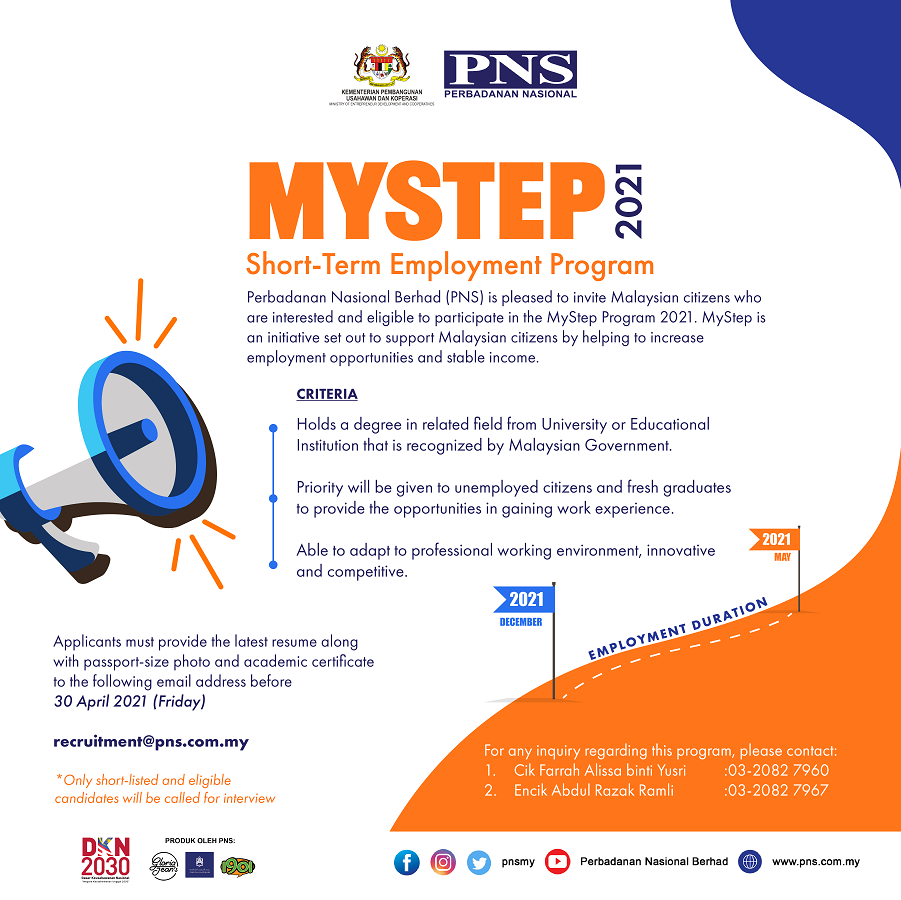 Internship
We welcome students who interested to undergo industrial/practical training with Perbadanan Nasional Berhad (PNS). Interested students will be placed at relevant departments or divisions and appropriate with the course of study (Subject to vacancy).
Conditions:
Malaysian citizen
Students studying in local or overseas Public/Private Institutes of Higher Learning
The duration of practical training is as set by respective schools
Applications must be sent at least one (1) month prior to the practical training
Good health
Transportation and lodging facilities will not be provided
Application methods
The documents required for the industrial training application at PNS are:
Cover Letter from IPTA / IPTS
Feedback Form from IPTA / IPTS
Resume / CV
Mini Transcript
Applications may be submitted to the following address: 
Pernas
Human Capital Department,
Level 13A, Menara Pernas, Tower 7, Avenue 7, Bangsar South City,
No.8, Jalan Kerinchi,
59200 Kuala Lumpur.
Tel No. : 03-2082 7788
Fax No. : 03-2082 7787
Email : [email protected] | [email protected]